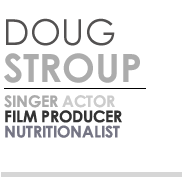 Concerts
Theater and Film
Nutritional Seminars
Special Events

Testimonials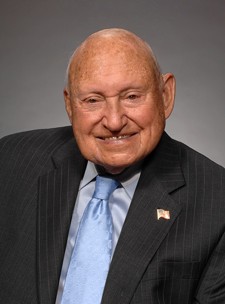 Truett Cathy
Founder Chick-fil-A, Inc. Atlanta, GA.
"Your devotion was truly inspirational. A definite contribution to the lives of all who heard"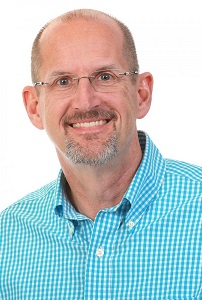 Rev Tim Dowdy
Pastor Eagles Landing First Baptist Church McDonough, GA
"His life both personally and professionally exhibits the love of Christ and he is indeed focused on serving our Savior. If you would like someone to lead your church in worship to the throne of God through exciting music and stirring testimony then I recommend to you Doug Stroup. His music will touch your heart and his message will change your life."

Terry and Barbi Franklin
Franklin Ministries, Inc. Nashville, TN
"He has a desire to serve God and to strive for excellence in his musical endeavors. He truly has a heart for the church and what God is doing in the world today. We're sure he would be an asset to any church that puts ministry above entertainment. Barbi and I have appreciated Doug's gentle and sincere spirit. We highly recommend him."
Max Wilmot
Director ValCinema Atlanta, GA
"Thank you so much for being such a crucial part in the film. I greatly appreciate how seriously you took the role and really made it your own."
Samantha Osburn
Executive Producer Atlanta Media Pros
"Doug was prepared and easy to work with. He takes direction well and can deliver with variety or consistency as requested."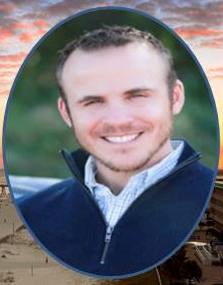 Kevin Brassell
Diamond Elite Zija International Bowling Green, KY
Doug and Amy Stroup have been incredible friends and mentors, not just in the realm of health and wellness or network marketing, but in LIFE! They are first class leaders and their heart for helping is crystal clear and apparent in everything they do from leadership calls to on stage training and face to face interaction! Networking for a cause is top priority with focus on God, family, friends and community! Nadia and I are so thankful for their team, family and commitment to God and His people!
Carl Greene
Pastor Grace Community Fellowship Newnan, GA
"The spirit in which he sings truly focuses the attention on the Lord. You will be encouraged, Christ will be exalted, God's Word will be shared, and lives will be touched as the Lord works through Doug."
Caryl F. Swift
President GA Right to Life Committee Norcross, GA
"Thank you for your participation at our Together for Life Memorial Service and walk at the State Capitol. I value your support and your presence helped raise the awareness to our fellow Georgians. As I look forward to the future, I can see us working together to restore respect and legal protection for all human beings. I love your music."
Buford Adams
Pastor Community Bible Church Stockbridge, GA
"I highly recommend Doug Stroup! I have known Doug since his teenage years and can say confidently that both his life and music glorify the Lord Jesus Christ."
Mike Otto
Pastor Crossing Community Church Newtown, PA
"This very talented musician plays and sings his heart out. With so much flesh-driven, doctrinally weak itinerate ministry done today, it has been quite refreshing to know about and make use of Doug Stroup."
David Barber
Principal Old National Christian Academy College Park, GA
"The quality and selection of Doug's music is outstanding. His genuineness and sincerity is evident, as is his musical talent. I encourage you to experience the rich blessing of exceptional music, not for entertainment, but for real ministry to the heart."
Randy Cheek
Pastor Ash Street Baptist Church Forest Park, GA
"Though he has a tremendous musical voice, his heart of love and passion for ministry is all encompassing throughout his presentation. His music was more than lyrics. His voice was coming from a heart of passion for ministry in the name of Jesus Christ. He is sold out to our Lord in service to Him. Doug's desire is to genuinely 'preach Jesus' wherever God leads him. More than simply having the ability to sing, Doug possesses the God-given gift and calling of music. After prayer, I encourage you to schedule him for a ministry event with you and your congregation as soon as possible."
Lisa F. Sutton
Director of Special Events GA Right to Life Norcross, GA
"Thank you so much for participating as the worship leader and guest soloist at our Together for Life Memorial Service. Your commitment to the cause of life helped to make the day so special. I heard so many positive comments about the music. Every song seemed so Spirit-led. I look forward to working with you again in the future."
Rev. David Cox
Pastor Hillcrest Baptist Church Williamston, SC
"Doug centers his ministry solely on exalting Christ and also ministers well to a diverse audience, from the children to the elderly. Your church or organization will be blessed abundantly by his ministry."
Bobby Stevenson
Minister of Music First Baptist Church Locust Grove, GA
"Doug's abilities are polished and professional. He does the tasks asked of him willingly and at a high level of achievement. However, the factor that makes Doug and his ministry successful is his heart. Doug is a man full of compassion with a heart to serve God and others. When he stands in front of a congregation, he does not entertain, but focuses the people to the Father through his words and actions. I recommend that every church allow Doug alone or with his quartet to help them focus on the Father through worship or a spirit filled concert."
Oliver Steele
Principal The King's Academy West Palm Beach, FL
"Your message was timely and appropriate. Thank you for taking your valuable time to share with us."
Andrew Ragan
Pastor Eastside Baptist Church McDonough, GA
"It is so refreshing to find a group who is so deeply committed to our Lord and Savior. Their style of music bridges all age groups. In a crusade in our church, I came to the conclusion that they really do help you FOCUS on the Savior. I would not hesitate in scheduling them for a youth revival, church renewal or crusade. God has His hand on this ministry."
Richard A. Steele
Youth Pastor Grace Community Church Pharr, TX
"I was impressed by the sincerity and effectiveness of his ministry. Doug was an outstanding example of integrity and prayerful Godliness with a genuine servant's heart."
John R. Hamilton
Minister of Youth/Singles Lake Shore United Methodist Church Jacksonville, FL
"Doug added depth and leadership to our youth week. He has a real talent for relating to people and for leading praise and worship times in any service. Relating especially well to our senior high and young couples, the adult Bible study tried to steal him for their program at every opportunity. We had no choice but to bring him back! If your church enjoys good music that focuses on Jesus, then schedule Doug Stroup!"
James R. VanDuzer
Principal LeHigh Valley Christian High School Allentown, PA
"At a chapel service we had with him, his music and message came obviously from his Christ-like concern for the salvation of the lost and the growth of Christians. Doug understands the nature of high school students and relates well within that context. I believe your students will be blessed by the Lord through him."
Home

About Doug

Nutrition

Products

Contact Doug
Privacy Policy
|
Terms Of Use
|
Copyright Information
The entirety of this site, Copyright 2020 © Doug Stroup